Bethesda Off Site Shredding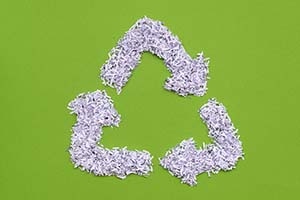 Unlike onsite shredding, materials are not shredded at your Bethesda location with an off site shredding service. Rather, they are loaded into a secure truck by trained professionals and then taken to a secure shredding facility for destruction. Once the documents have been destroyed, the shredded materials from various shredding projects are co-mingled and baled together. Co-mingling the shredded materials adds an extra layer of security because it makes piecing the materials back together virtually impossible. Finally, the materials are taken to a recycling facility.
This service is often cheaper than onsite shredding, and great for those who have projects larger than 300 pounds. Off site shredding is also considerably less time-consuming because you don't need to watch the process. Off site shredding is compliant with every current federal and Maryland privacy law, including HIPAA and FACTA.
How Off Site Shredding Is Done:
Your documents are collected by trained security personnel.
They are then safely transported to the shredding plant. Only authorized personnel are allowed to come into contact with your documents at the plant.
The paper is shredded, compacted, and recycled into new paper.
A Certificate of Destruction is provided.
The Certificate of Destruction you receive will contain detailed information about the process, including a certification of the weight of your project and a list of witness signatures. While witnessing the destruction of your documents personally may be preferable, it is also time-consuming and unnecessary, as you can be provided with a list of witnesses that watched the destruction of your documents at the secure facility.
Get FREE Quotes on Convenient Off Site Shredding in Bethesda Today!
Bethesda Document Shredding takes the shredding of your sensitive documents seriously, so that you can spend less time worrying about your security. Let us help ensure your safety by connecting you to our secure, local network of shredding providers offering off site shredding services. We are glad to help you schedule a one-time purge or ongoing services. Simply fill out the form to the left or give us a call at (240) 668-0318 to get free quotes today!