Bethesda Hard Drive Destruction
More and more Bethesda homes and businesses are going paperless, storing their sensitive data digitally on computers or other electronic media devices. Everything from banking information, classified business information, online applications, and even medical records are all kept on hard drives and shared via the Internet. Paper documents are being scanned to computers so that businesses can save money and eliminate paper waste. But did you know that data is recoverable from a hard drive, even if you believe you've scrubbed it of your files?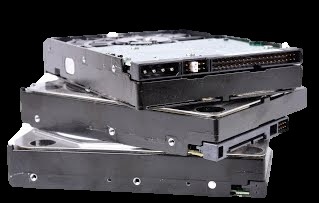 The only guaranteed way to protect yourself from a data breach is to have that hard drive shredded. This process is required for compliance with Maryland privacy laws, including HIPAA and FACTA. Businesses that fail to destroy hard drives in the past have incurred severe fines and penalties. Deleting your files does not guarantee that your data has been removed from the hard drive. Software exists that makes retrieving this information simple.
This does not just apply to the hard drive in your traditional desktop computer. Hard drives are hidden everywhere in a home or office. Devices like scanners, fax machines, and printers all have hard drives that are capable of storing files.
Hard drive destruction is a critical step in protecting your electronic information. Additionally, it can be key to protecting the environment. After the shredding process, the hard drives are properly disposed of, meeting EPA regulations for safety. Professional disposal services follow all state hazardous waste requirements. Keep your information safe while also protecting your planet.
Shred These Common Electronic Devices
Optical media, including CDs and DVDs
Mobile devices like cell phones, smart phones, PDAs, tablets, and laptops
RAM and ROM-based storage devices
Legacy magnetic media like floppy drives, zip disks and magnetic tapes
PC hard drives
Fax machines, scanners, copiers, and printers
Memory cards, including SD, SDHC, MMC, compact flash and memory sticks
USB removable media such as pen drives, thumb drives, flash drives, and sticks
Embedded flash on boards and devices, including motherboards and peripheral cards such as network adapters or any other adapter containing non volatile flash memory
Biomedical devices such as physiologic monitors, infusion pumps, ventilators, MRI, CT, and diagnostic ultrasound and laboratory analyzers
Contact Bethesda Document Shredding today to inquire more about what devices might be putting you or your business at risk: (240) 668-0318. Hard drive destruction can be performed at your location or at a secure facility. Once your hard drives are pulverized, the pieces are melted down for recycling, assuring absolute destruction. Just like with every shredding service, you'll receive a Certificate of Destruction once this process is complete.
Protect Your Data! Get FREE Quotes on Hard Drive Destruction in Bethesda Today!
A breach of digital data can cause severe repercussions. Whereas a thief might only be able to grab an armful of physical documents, a hacker can download hundreds of thousands of files in minutes. Don't be careless with your hard drives. Ensure their destruction today by contacting us at (240) 668-0318, or requesting a free quote by filling out the form to the left.