Destroying Private Health Information
Today, health care providers must be relentless in the steps the take to protect their clients' privacy. Medical identity theft is one of the worst forms of identity theft that can happen to an individual, mainly for its ability to cause life-threatening harm to the victim. With medical identity theft increasingly on the rise, health care providers must therefore maintain strict guidelines regarding the handling and disposing of a client's information, otherwise known as private health information (PHI).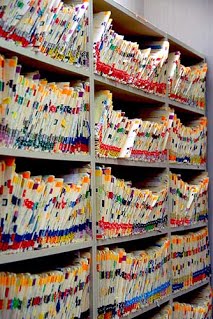 When someone has access to another person's PHI, they now have access to the victim's financial information, insurance information, addresses, and personal health information. What's more, is that that person can now receive medical treatment posing as the victim. Not only can this incur enormous medical financial debt for someone, but the victim's medical file now contains inaccurate health information, like the incorrect blood type, what prescriptions is the victim allegedly taking, and whether or not he or she has an ailment or had a surgery that the victim did not actually have.
Clearly, incorrect medical information prevents a health care provider from providing adequate care and could result in life-threatening injury. It is absolutely vital that all health care providers are vigilant in protecting their clients' PHI with heightened security and proper disposal of these materials, be them hard drives or paper documents.
Maryland and federal laws like FACTA and HIPAA require health care providers to follow strict guidelines in the handling and disposing of PHI. Health care providers are not permitted under federal law to abandon PHI in dumpsters, which are accessible to the public. Health care providers must ensure that PHIs are reasonably destroyed and rendered illegible so that no other person can gather information from them.
HIPAA Classified PHI Items
Names
Geographic data
Telephone numbers
All elements of dates
Social Security numbers
Medical record numbers
FAX numbers
Certificate/license numbers
Email addresses
Health plan beneficiary numbers
Account numbers
Web URLs
Full face photos and comparable images
Device identifiers and serial numbers
Internet protocol addresses
Biometric identifiers (i.e. retinal scan, fingerprints, etc.)
Vehicle identified and serial numbers including license plates
Any unique identifying number, characteristic or code
Let Bethesda Document Shredding Help Protect Your Clients Today!
Whether you're looking for on site, off site, or hard drive shredding, Bethesda Document Scanning can help you protect the privacy of your clients. You'll receive a Certificate of Destruction after the completion of each job for your records so that you have proof of the security measures you've taken if ever the need arises. Request a FREE quote or call (240) 668-0318 to learn more about how you can protect your clients with Bethesda Document Shredding today!